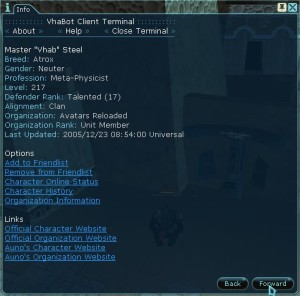 VhaBot is a guild and raid chatbot that is used for the MMPORG game Anarchy Online.
The bot was originally developed by Vhab in 2005. There have been contributions from numerous players and development  throughout the world over the years.  Vhab now works for Funcom, the corporation that created Anarchy Online. In his honor, we continue to develop one of Anarchy Online's best third-party projects.
This application is community supported and not supported by Funcom staff.
VhaBot proudly uses C# and is currently complied in .Net 2.0. Plug-Ins can use C# or VB.Net.
Credits
| Name | Role |
| --- | --- |
| Vhab | Founder |
| Iriche | Developer |
| Naturalistic | Developer |
| Tsuyoi | Developer |
| Veremit | Developer |
| Kilmanagh | Developer |
| Toxor (aka Techboy) | Contributor |
| Telperion | Contributor |
| Moepl | Contributor |
| Fayelure | Contributor |
| Neksus | Contributor |
| Llie | Contributor |
| Voncrossling | Content Artist |